Contacting Southeast Cylinder Head
Southeast Cylinder Head is located close to the Citrus Bowl, one of Orlando's most well-known landmarks. Listed below is our location and contact information that you can use to contact us.
John Lantry
Owner
Orlando's one stop shop for quality cylinder heads repairs.
1438 West Anderson Street
32805
United States of America
john@southeastcylinderhead.com
407-730-9777
855-791-0132
Map to Southeast Cylinder Head: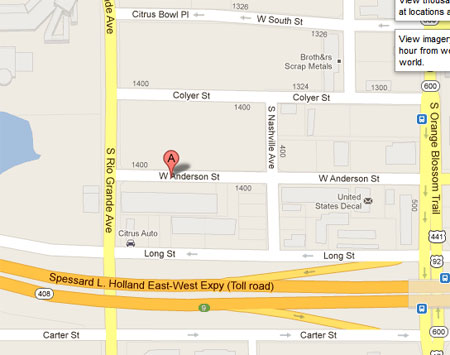 ---
Coverage Area
Below are the states and counties listed that we service for cylinder heads.
Alabama:
Autauga, Baldwin, Barbour, Bibb, Blount, Bullock, Butler, Calhoun, Chambers, Cherokee, Chilton, Choctaw, Clarke, Clay, Cleburne, Coffee, Colbert, Conecuh, Coosa, Covington, Crenshaw, Cullman, Dale, Dallas, DeKalb, Elmore, Escambia, Etowah, Fayette, Franklin, Geneva, Greene, Hale, Henry, Houston, Jackson, Jefferson, Lamar, Lauderdale, Lawrence, Lee, Limestone, Lowndes, Macon, Madison, Marengo, Marion, Marshall, Mobile, Monroe, Montgomery, Morgan, Perry, Pickens, Pike, Randolph, Russell, Shelby, St. Clair, Sumter, Talladega, Tallapoosa, Tuscaloosa, Walker, Washington, Wilcox, Winston
Arkansas:
Arkansas, Ashley, Baxter, Benton, Boone, Bradley, Calhoun, Carroll, Chicot, Clark, Clay, Cleburne, Cleveland, Columbia, Conway, Craighead, Crawford, Crittenden, Cross, Dallas, Desha, Drew, Faulkner, Franklin, Fulton, Garland, Grant, Greene, Hempstead, Hot Spring, Howard, Independence, Izard, Jackson, Jefferson, Johnson, Lafayette, Lawrence, Lee, Lincoln, Little River, Logan, Lonoke, Madison, Marion, Miller, Mississippi, Monroe, Montgomery, Nevada, Newton, Ouachita, Perry, Phillips, Pike, Poinsett, Polk, Pope, Prairie, Pulaski, Randolph, Saline, Scott, Searcy, Sebastian, Sevier, Sharp, St. Francis, Stone, Union, Van Buren, Washington, White, Woodruff, Yell
Florida:
Alachua, Baker, Bay, Bradford, Brevard, Broward, Calhoun, Charlotte, Citrus, Clay, Collier, Columbia, DeSoto, Dixie, Duval, Escambia, Flagler, Franklin, Gadsden, Gilchrist, Glades, Gulf, Hamilton, Hardee, Hendry, Hernando, Highlands, Hillsborough, Holmes, Indian River, Jackson, Jefferson, Lafayette, Lake, Lee, Leon, Levy, Liberty, Madison, Manatee, Marion, Martin, Miami-Dade, Monroe, Nassau, Okaloosa, Okeechobee, Orange, Osceola, Palm Beach, Pasco, Pinellas, Polk, Putnam, Santa Rosa, Sarasota, Seminole, St. Johns, St. Lucie, Sumter, Suwannee, Taylor, Union, Volusia, Wakulla, Walton, Washington
Georgia:
Appling, Atkinson, Bacon, Baker, Baldwin, Banks, Barrow, Bartow, Ben Hill, Berrien, Bibb, Bleckley, Brantley, Brooks, Bryan, Bulloch, Burke, Butts, Calhoun, Camden, Candler, Carroll, Catoosa, Charlton, Chatham, Chattahoochee, Chattooga, Cherokee, Clarke, Clay, Clayton, Clinch, Cobb, Coffee, Colquitt, Columbia, Cook, Coweta, Crawford, Crisp, Dade, Dawson, Decatur, DeKalb, Dodge, Dooly, Dougherty, Douglas, Early, Echols, Effingham, Elbert, Emanuel, Evans, Fannin, Fayette, Floyd, Forsyth, Franklin, Fulton, Gilmer, Glascock, Glynn, Gordon, Grady, Greene, Gwinnett, Habersham, Hall, Hancock, Haralson, Harris, Hart, Heard, Henry, Houston, Irwin, Jackson, Jasper, Jeff Davis, Jefferson, Jenkins, Johnson, Jones, Lamar, Lanier, Laurens, Lee, Liberty, Lincoln, Long, Lowndes, Lumpkin, Macon, Madison, Marion, McDuffie, McIntosh, Meriwether, Miller, Mitchell, Monroe, Montgomery, Morgan, Murray, Muscogee, Newton, Oconee, Oglethorpe, Paulding, Peach, Pickens, Pierce, Pike, Polk, Pulaski, Putnam, Quitman, Rabun, Randolph, Richmond, Rockdale, Schley, Screven, Seminole, Spalding, Stephens, Stewart, Sumter, Talbot, Taliaferro, Tattnall, Taylor, Telfair, Terrell, Thomas, Tift, Toombs, Towns, Treutlen, Troup, Turner, Twiggs, Union, Upson, Walker, Walton, Ware, Warren, Washington, Wayne, Webster, Wheeler, White, Whitfield, Wilcox, Wilkes, Wilkinson, Worth
Kentucky:
Adair, Allen, Anderson, Ballard, Barren, Bath, Bell, Boone, Bourbon, Boyd, Boyle, Bracken, Breathitt, Breckinridge, Bullitt, Butler, Caldwell, Calloway, Campbell, Carlisle, Carroll, Carter, Casey, Christian, Clark, Clay, Clinton, Crittenden, Cumberland, Daviess, Edmonson, Elliott, Estill, Fayette, Fleming, Floyd, Franklin, Fulton, Gallatin, Garrard, Grant, Graves, Grayson, Green, Greenup, Hancock, Hardin, Harlan, Harrison, Hart, Henderson, Henry, Hickman, Hopkins, Jackson, Jefferson, Jessamine, Johnson, Kenton, Knott, Knox, Larue, Laurel, Lawrence, Lee, Leslie, Letcher, Lewis, Lincoln, Livingston, Logan, Lyon, Madison, Magoffin, Marion, Marshall, Martin, Mason, McCracken, McCreary, McLean, Meade, Menifee, Mercer, Metcalfe, Monroe, Montgomery, Morgan, Muhlenberg, Nelson, Nicholas, Ohio, Oldham, Owen, Owsley, Pendleton, Perry, Pike, Powell, Pulaski, Robertson, Rockcastle, Rowan, Russell, Scott, Shelby, Simpson, Spencer, Taylor, Todd, Trigg, Trimble, Union, Warren, Washington, Wayne, Webster, Whitley, Wolfe, Woodford
Louisiana:
Allen Parish, Ascension Parish, Assumption Parish, Avoyelles Parish, Beauregard Parish, Bienville Parish, Bossier Parish, Caddo Parish, Calcasieu Parish, Caldwell Parish, Cameron Parish, Catahoula Parish, Claiborne Parish, Concordia Parish, De Soto Parish, East Baton Rouge Parish, East Carroll Parish, East Feliciana Parish, Evangeline Parish, Franklin Parish, Grant Parish, Iberia Parish, Iberville Parish, Jackson Parish, Jefferson Parish, Jefferson Davis Parish, La Salle Parish, Lafayette Parish, Lafourche Parish, Lincoln Parish, Livingston Parish, Madison Parish, Morehouse Parish, Natchitoches Parish, Orleans Parish, Ouachita Parish, Plaquemines Parish, Pointe Coupee Parish, Rapides Parish, Red River Parish, Richland Parish, Sabine Parish, St. Bernard Parish, St. Charles Parish, St. Helena Parish, St. James Parish, St. John the Baptist Parish, St. Landry Parish, St. Martin Parish, St. Mary Parish, St. Tammany Parish, Tangipahoa Parish, Tensas Parish, Terrebonne Parish, Union Parish, Vermilion Parish, Vernon Parish, Washington Parish, Webster Parish, West Baton Rouge Parish, West Carroll Parish, West Feliciana Parish, Winn Parish
Mississippi:
Adams, Alcorn, Amite, Attala, Benton, Bolivar, Calhoun, Carroll, Chickasaw, Choctaw, Claiborne, Clarke, Clay, Coahoma, Copiah, Covington, DeSoto, Forrest, Franklin, George, Greene, Grenada, Hancock, Harrison, Hinds, Holmes, Humphreys, Issaquena, Itawamba, Jackson, Jasper, Jefferson, Jefferson Davis, Jones, Kemper, Lafayette, Lamar, Lauderdale, Lawrence, Leake, Lee, Leflore, Lincoln, Lowndes, Madison, Marion, Marshall, Monroe, Montgomery, Neshoba, Newton, Noxubee, Oktibbeha, Panola, Pearl River, Perry, Pike, Pontotoc, Prentiss, Quitman, Rankin, Scott, Sharkey, Simpson, Smith, Stone, Sunflower, Tallahatchie, Tate, Tippah, Tishomingo, Tunica, Union, Walthall, Warren, Washington, Wayne, Webster, Wilkinson, Winston, Yalobusha, Yazoo
North Carolina:
Alamance, Alexander, Alleghany, Anson, Ashe, Avery, Beaufort, Bertie, Bladen, Brunswick, Buncombe, Burke, Cabarrus, Caldwell, Camden, Carteret, Caswell, Catawba, Chatham, Cherokee, Chowan, Clay, Cleveland, Columbus, Craven, Cumberland, Currituck, Dare, Davidson, Davie, Duplin, Durham, Edgecombe, Forsyth, Franklin, Gaston, Gates, Graham, Granville, Greene, Guilford, Halifax, Harnett, Haywood, Henderson, Hertford, Hoke, Hyde, Iredell, Jackson, Johnston, Jones, Lee, Lenoir, Lincoln, Macon, Madison, Martin, McDowell, Mecklenburg, Mitchell, Montgomery, Moore, Nash, New Hanover, Northampton, Onslow, Orange, Pamlico, Pasquotank, Pender, Perquimans, Person, Pitt, Polk, Randolph, Richmond, Robeson, Rockingham, Rowan, Rutherford, Sampson, Scotland, Stanly, Stokes, Surry, Swain, Transylvania, Tyrrell, Union, Vance, Wake, Warren, Washington, Watauga, Wayne, Wilkes, Wilson, Yadkin, Yance
South Carolina:
Abbeville, Aiken, Allendale, Anderson, Bamberg, Barnwell, Beaufort, Berkeley, Calhoun, Charleston, Cherokee, Chester, Chesterfield, Clarendon, Colleton, Darlington, Dillon, Dorchester, Edgefield, Fairfield, Florence, Georgetown, Greenville, Greenwood, Hampton, Horry, Jasper, Kershaw, Lancaster, Laurens, Lee, Lexington, Marion, Marlboro, McCormick, Newberry, Oconee, Orangeburg, Pickens, Richland, Saluda, Spartanburg, Sumter, Union, Williamsburg, York
Tennessee:
Anderson, Bedford, Benton, Bledsoe, Blount, Bradley, Campbell, Cannon, Carroll, Carter, Cheatham, Chester, Claiborne, Clay, Cocke, Coffee, Crockett, Cumberland, Davidson, Decatur, DeKalb, Dickson, Dyer, Fayette, Fentress, Franklin, Gibson, Giles, Grainger, Greene, Grundy, Hamblen, Hamilton, Hancock, Hardeman, Hardin, Hawkins, Haywood, Henderson, Henry, Hickman, Houston, Humphreys, Jackson, Jefferson, Johnson, Knox, Lake, Lauderdale, Lawrence, Lewis, Lincoln, Loudon, Macon, Madison, Marion, Marshall, Maury, McMinn, McNairy, Meigs, Monroe, Montgomery, Moore, Morgan, Obion, Overton, Perry, Pickett, Polk, Putnam, Rhea, Roane, Robertson, Rutherford, Scott, Sequatchie, Sevier, Shelby, Smith, Stewart, Sullivan, Sumner, Tipton, Trousdale, Unicoi, Union, Van Buren, Warren, Washington, Wayne, Weakley, White, Williamson, Wilson
Virginia:
Accomack, Albemarle, Alexandria (city), Alleghany, Amelia, Amherst, Appomattox, Arlington, Augusta, Bath, Bedford, Bedford (city), Bland, Botetourt, Bristol (city), Brunswick, Buchanan, Buckingham, Buena Vista (city), Campbell, Caroline, Carroll, Charles City, Charlotte, Charlottesville (city), Chesapeake (city), Chesterfield, Clarke, Colonial Heights (city), Covington (city), Craig, Culpeper, Cumberland, Danville (city), Dickenson, Dinwiddie, Emporia (city), Essex, Fairfax, Fairfax (city), Falls Church (city), Fauquier, Floyd, Fluvanna, Franklin, Franklin (city), Frederick, Fredericksburg (city), Galax (city), Giles, Gloucester, Goochland, Grayson, Greene, Greensville, Halifax, Hampton (city), Hanover, Harrisonburg (city), Henrico, Henry, Highland, Hopewell (city), Isle of Wight, James City, King and Queen, King George, King William, Lancaster, Lee, Lexington (city), Loudoun, Louisa, Lunenburg, Lynchburg (city), Madison, Manassas (city), Manassas Park (city), Martinsville (city), Mathews, Mecklenburg, Middlesex, Montgomery, Nelson, New Kent, Newport News (city), Norfolk (city), Northampton, Northumberland, Norton (city), Nottoway, Orange, Page, Patrick, Petersburg (city), Pittsylvania, Poquoson (city), Portsmouth (city), Powhatan, Prince Edward, Prince George, Prince William, Pulaski, Radford (city), Rappahannock, Richmond, Richmond (city), Roanoke, Roanoke (city), Rockbridge, Rockingham, Russell, Salem (city), Scott, Shenandoah, Smyth, Southampton, Spotsylvania, Stafford, Staunton (city), Suffolk (city), Surry, Sussex, Tazewell, Virginia Beach (city), Warren, Washington, Waynesboro (city), Westmoreland, Williamsburg (city), Winchester (city), Wise, Wythe, York
---